Mandolin Sheet Music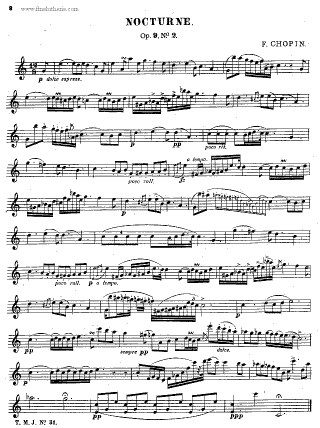 This work is licensed under a Creative Commons Attribution-ShareAlike 2.5 License.
We are pleased to offer "Turner's Mandoline Journal No.31", which features a number of works by Chopin, arranged for Mandolin by Carlo Murretti, as a free download.
This is the first of a number of books of sheet music that we plan to make available here. In order to protect people from unknowingly paying for music that can be downloaded freely, we are releasing this sheet music under a creative commons license - details can be found by clicking the button above. we are happy to consider waiving these conditions for individual cases - please contact us with your reasons.
To download the Mandolin score please right click here and choose "Save Link As..."
The Piano scores: ( right click and choose "Save Link As..." )
Opus 37, a Nocturne.
Opus 7 No.1, a Mazurka.
We intend to release the piano accompaniment for these pieces as we find time. If you would like the piano accompaniment sheet music for any particular piece, then please contact us and we will be happy to bring it to the front of the queue, and make it available here.
If you need software to view the score, here are some links that you may find useful.
We intend to add more free sheet music to this area, and look forwarding to seeing you back again!
Thank you for looking!